---
Visiting the Research Center | JCGS Library Catalog | Online databases free to JCGS members at the RC | Volunteering with JCGS | Directions to the Research Center
---
Location
13692 Highway 19 (Airport Cutoff Road), Port Townsend, Wash., 98368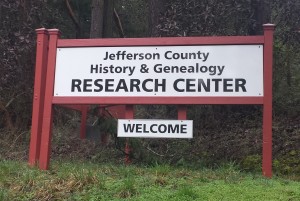 Directions to the Research Center
Hours & Fees

Tuesday – Saturday 11:00 a.m. to 4:00 p.m. (except the third Saturday of the month when we open at 12 noon).
The Center is closed on all major holidays and the last two weeks in December.
The Center can be closed for inclement weather.
Call ahead (360-385-9495) if you have any questions about the hours.
Entrance Fee: There is a $6.00 entrance fee per person ($5.00 seniors) for visitors who are not members of either JCGS or JCHS.
Copies: Photocopies (of any size) and computer printouts are 10¢ each for members and 20¢ each for non-members. Prints from the microfilm reader are 50¢ each for members and $1.00 each for non-members.

Visiting the Research Center
JCGS volunteers are on duty at all times to welcome and help you with your research needs.
The Research Center is handicap accessible.
There is ample free parking.
Free Wi-Fi is available for members and paying visitors.
No food or drink is allowed in the research room.
The break room/kitchen has a refrigerator and a microwave oven. Feel free to bring your own lunch or snacks.
Snacks from Costco are available for purchase.
The Jefferson County Genealogical Society library and collections are housed in the Research Center of the Jefferson County Historical Society. In addition to the JCGS library described below, the Research Center also houses the archives and vast collections of the Jefferson County Historical Society. These include newspapers; vertical files on subjects and surnames; thousands of documents in the manuscript collection; information on buildings and houses; maps; thousands of photographs; city directories; maritime treasures, and much more.
The JCGS library collection is cataloged at LibraryThing.com.
There is no n
eed to "join" or "sign-in". To search the JCGS collection use the "Search this library" box in the title bar, off to the right (below the "Search site" option). To the right of the word "Search" is an arrow ▼ that offers a drop down menu with options and search tips.
The Library holdings of the society comprise approximately 2,000 books, CDs, magazines and maps that have been purchased or donated by members since 1983. The collection includes holdings regarding all 50 states and many foreign countries, references for foreign research, family histories and "how to" reference information. We also have histories and social histories in our library as one of our areas of interest.
You can browse the Library stacks by visiting the Research Center.  JCGS members may check out books for two weeks at a time.
Families Collection – Surname related works donated by our members.
Foreign Collection – Includes titles on Canada, England, Europe, France, Germany, Great Britain (England, Ireland, Scotland, Wales) Italy, Netherlands, Poland, Russia, Scandinavia (Denmark, Norway, Sweden), Slovakia  and Switzerland.
Reference Collection – Includes titles on censuses, dictionaries, directories, ethnic, fashion, immigration, genealogy instruction, genealogy writing, Internet, magazines, maps, Military (Revolutionary War, War of 1812, Civil War), DAR, National Archives, Religion and Women.
United States Collection – Includes compiled records, histories, periodicals, or research guides at the state or county levels.  The number of items varies per area, but we have something for all 50 states.

You can also contribute to the JCGS by helping to build our library. We are always grateful for donations of genealogy books that you are no longer using. Donations can be made by dropping them off at the Research Center or calling us for pick up. If we are unable to use your donation, we will either return it to you or offer it for sale at our annual seminar, using the proceeds to help us purchase more books for our collection.
50/50 Book Purchase Program
An important way to support our library is to participate in our 50/50 Book Purchase Program. You select a book you would like to use and then add to our library. If it is approved, you pay 50 percent of the cost and the JCGS pays the other 50 percent. You have use of the book for six weeks before it is added to the library shelves. A great deal for all of us. Click here for a 50/50 program form.
Subscription Online Databases Available Free to JCGS Members at the Research Center.
One of the benefits of your membership is access to subscription websites free of charge in the Research Center. You may want to look at a site to see if it is worth your while to subscribe privately. Or, you may find the information you seek by coming into the Research Center and thus saving yourself the subscription fee. We are always open to ideas for new subscriptions, so please let us know if there is one that would benefit you. The following are available for free to JCGS members:
2018 NOTE: JCGS will not renew its subscriptions to Fold3 (expires in May) or Newspaper Archives (expires in August). JCGS encourages members (and others) to obtain a KING COUNTY LIBRARY CARD to have free access to both these subscriptions, as well as many others, on your personal devices. The application can be completed and submitted on line; and a card will be mailed to you. HOWEVER, you will need to visit a King County library branch to activate the card.
American Ancestors (formerly NEHGS).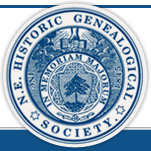 The new name for the New England Historic Genealogical Society site. They are trying to emphasize that they have information for researchers beyond the borders of New England, and indeed they do. This site provides a wealth of information for New England, so use it for any research in these states. They have quite a lot available for New York as well, so be sure to look here. Besides the images of records that they have posted, there are excellent instructional videos on the site as well as articles about researching in a number of different areas. So, don't stop with the surname search but be sure to take full advantage of the offerings.
Ancestry.com – Library edition. We have the US Collection and the

International Collection, so you have access to US, English and Canadian census records as well as other non-United States information. The databases are numerous and cover many types of records. The Library Edition does not include Family Trees or Newspapers.
Fold3 (formerly Footnote). This site posts images of documents from the National Archives. Since it was purchased by Ancestry, they have announced their focus to be Military Records.

Their version of the Revolutionary War Pension Records is the most complete file available. They have also cross referenced the documents for names mentioned which can be very useful.
Newspaper Archives. Because newspapers are not included in our Ancestry subscription, we subscribe to Newspaper Archives. Search the site for the geographic area of interest to you to

see what papers they have and what years are included. The variety of other types of records previously posted to this site are still there so it is worth a careful look.
Volunteering
We have a variety of volunteer opportunities at the JCGS. As mentioned above, the Research Center is staffed by JCGS members who assist visitors with their research. Additionally, Jefferson County records are abstracted to create the indexes available on this website. The abstracting work can be done at the Research Center or at home.

Directions to the Research Center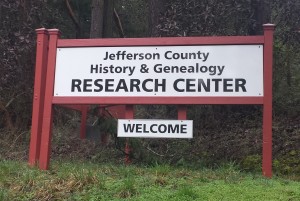 The Research Center is located at 13692 Airport Cutoff Road (Highway 19), approximately five miles south of the City of Port Townsend and 0.3 miles south of the intersection of Highway 19 and Highway 20. The JCGS phone number is (360) 385-9495.
From Port Townsend: Follow Sims Way out of town. At the intersection of Highway 20 and Sims Way (Highway 19), go straight 0.3 miles. The Research Center is on your left. Map
From Port Angeles/Sequim: Take Highway 101 to Highway 20 toward Port Townsend. At the stop light, turn right and go 0.3 miles. The Research Center is on your left. Map
From State Hwy 104: Take Port Townsend Exit, via Beaver Valley/Hwy19. Follow through the intersection of Chimacum/Center Rd where the road name changes to Rhody Drive. Follow Rhody Drive to the intersection of Four Corners Road where the road name changes to Airport Cut Off Road. Continue to follow Hwy19/Airport Cut Off Road for 1.8 miles past the Jefferson County Airport. The Research Center is on your right. Map