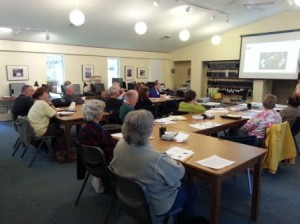 Calendar | Discussion Groups | Seminars | Beginning Class | Membership
---
Jefferson County Genealogical Society has 200 members! JCGS supports its members with Monthly Meetings, Monthly Resource Corners, Discussion Groups, Seminars, and for our new members an annual Beginning Genealogy Class.
MONTHLY MEETINGS are held on the third Saturday of most months (no meetings in July or August) at the Tri-Area Community Center in Chimacum (10 West Valley Road, Chimacum, 98325). Monthly meetings run from 9:30 to about 11:00 or 11:30 and feature speakers and topics of general interest. Guests and visitors are always welcome. No charge. Check the Calendar for details.
RESOURCE CORNERS are held the fourth Saturday of most months at the Research Center. Yet another remarkable benefit of JCGS membership, these classes are designed to allow an in-depth look at an area of genealogical research. One of our members generally leads the discussion, and participants are encouraged to bring their own experiences, questions and problems related to the topic. Check the Calendar for monthly topic details.
---

DISCUSSION GROUPS. JCGS members are eligible to join one or more of the society's Discussion Groups. Groups meet at the Research Center  from 9:30 a.m. to 11:00 a.m. on the specified days.
Writers Group: meets the second Saturday of most months.
DNA Discussion Group: meets occasionally.
For details go to the Discussion Groups page.